Heavy Duty Plus 5ml Pump Module
---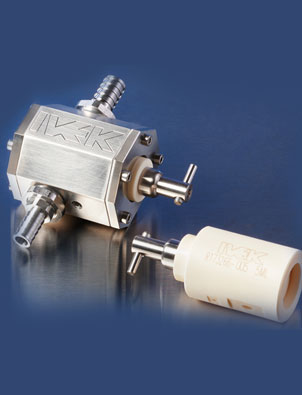 Heavy Duty Plus Pump Module
The Heavy Duty Plus Pump Module is comprised of a ceramic piston fabrication and mated ceramic cylinder pressed into a case having intake and discharge ports. The HD+ Pump Modules are designed for easy detachment from the Motor/Base Module and disassembly for ease of cleaning, decontamination and sterilization. The intake and discharge ports a wide variety of stainless steel or plastic fittings available through IVEK. The HD+ Pump Modules are designed for use with IVEK's Heavy Duty Motor/Base Modules.
Benefits and Features of the Heater System
Displacement 5mL per stroke
Positive displacement piston cylinder design made from 99.5% alumina oxide (Al2O3)
Individually laser serialized piston/cylinder sets
Case material: 316 Stainless Steel
Wetted materials include ceramic, elastomeric o-ring and PTFE
Resists routine autoclaving and sterilization procedures.
Seal-less design
Wide variety of standard fittings available
Low Friction
Low fluid shear
Module can be heated.
---