DIGISPENSE® STRIPER Reagent Dispensing System
REAGENT DISPENSING FOR LATERAL FLOW ASSAYS (LFA)
The IVEK Digispense® Reagent Striper, is a semi-automatic linear reagent dispensing positioning/dispensing system intended for continuous non-contact fluid dispensing onto various substrates such as nitrocellulose for manufacturing lateral flow assays (LFA). The precisely controlled motions of the vacuum plate slide carriage and IVEK dispensers together provide for extremely precise and consistent reagent line impregnation.
Touch screen operation allows for immediate precise control over all system functions and has virtually eliminated the need for mechanical adjustments. The flexibility of the Digispense® reagent striper makes it an ideal research and development tool, as well as a full production machine. This system was created with the specific needs and requests of the diagnostic manufacturer to ensure a quality lateral flow test is the end result.
---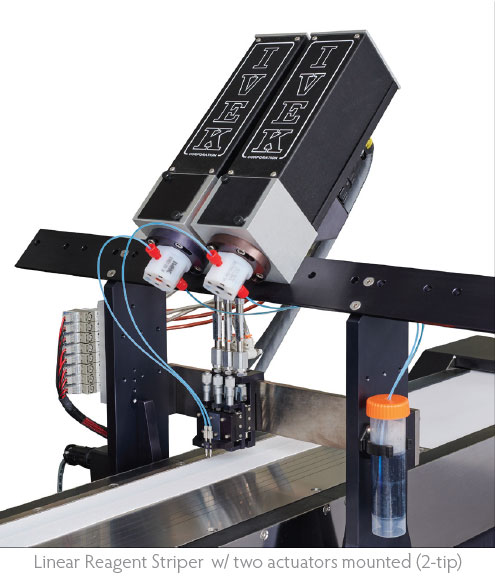 Download PDF
Digispense® Striper Reagent Dispensing System Overview
Designed for applications where simultaneous delivery of identical volumes of fluid is desired. A high-resolution servo-controlled actuator can control 8, 10, or 12 ceramic pump modules at once.
All parameters are digitally selected via RS232 computer signal or touch screen interface.
Benefits and Features of the Digispense® Striper
Up to 8 independently controlled continuous reagent lines
Up to 8 independently controlled dispense tip positioning fixtures
Substrate dimensions up to 110mm x 450mm accommodated (Max Strip Length 450mm)
Continuous fluid impregnation operator selectable from 1-450mm long
Custom vacuum plate holds membrane substrates firmly in place
Linear travel rate operator selectable from 1-100 mm/sec
Accuracy/Repeatability < 1% Cv
Capable of pumping high viscosity fluids (1,000+ cps)
Able to dispense materials with additives
Optional bubble detection/loss of fluid sensor(s)
Gantry mounted dispensers for maximum accessibility to pumping chambers
Minimum spacing between dispense tips 5 mm
Ultra high purity ceramic dispense tips with bore sizes from 0.003"-0.007" with 0.010" and 0.012" options as well.
Designed for use with Digispense® 4000 controllers:

Continuous dispensing rate operator selectable down through 0.1 μl/sec.
Dispensers fitted with 1A – 4A pump heads, depending on flow volume required
Digital volume and flow rate control adjustment
LCD display of all dispensing parameters
Automatic pump priming and reloading
Micro-stepped pumps and bed for better resolution at low volume
Computer interface – RS232 or EtherNet/IP™
---