AutoPipettor - Precision Aspirating And Dispensing Module
---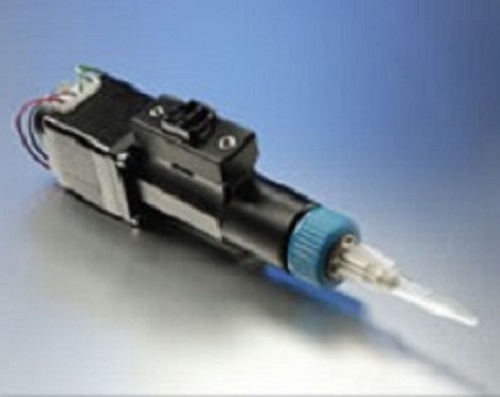 IVEK's AutoPipettor has been carefully developed to provide life science instrument developers and manufacturers with an electronically controlled pipettor for precise and reliable liquid handling. With the functionality of an electronic pipettor, small and large sample aliquots are effortlessly managed.
Functioning as an air displacement mechanism, liquid dispensing capabilities and performance are enhanced due to a closefitting ceramic-on-ceramic piston and cylinder set. The piston is coupled to a stepper motor driven linear actuator that creates tightly controlled piston motion, yielding outstanding accuracy, precision and reliability.
Features & Benefits of the Ivek AutoPipettor Include:
Six standard volume capacities:
37µl, 75µl, 150µl, 300µl, 500µl, 1250µl
Inaccuracy < 1.0% and imprecision < 0.75% CV for displacements > 5% of total pump displacement
Compact and lightweight; integrated connectors simplify integration into OEM equipment
Bipolar hybrid stepper motor linear actuator
Motor encoder option available
Various port fitting/tip adaptors available
Ceramic pistons and cylinders are 100% inspected and can be individually serialized; material, dimensional, and performance certification provided upon request
Optical end-of-stroke position sensor standard
Wear resistant components provide unsurpassed life (>5 million cycles achievable) without need for replacement parts
Wetted materials of construction1

Piston and cylinder: alumina or zirconia ceramic
Port fitting adaptor: consult IVEK
Port fitting adaptor o-ring: FKM (standard)
1 Alternative materials for port fitting adaptors and O-rings are available.
Ivek AutoPipettor Specifications: