IVEK's OEM Metering Pumps - Exceptional Precision and Reliability
---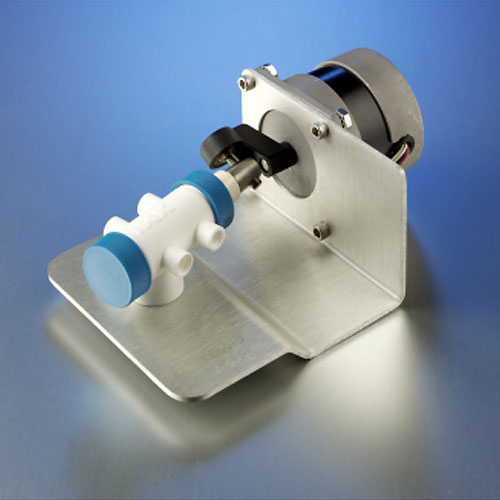 IVEK's rotary/reciprocating metering pumps provide exceptional precision and reliability for many applications where fast and precise dispensing of fluids are required.
Our OEM Metering Pumps were designed especially for our Instrument and Medical Device builders where their applications require either continuous flow or extremely rapid dispensing rates, such as filling 96 or 384 well plates or rapid, precise tube dispensing. The IVEK OEM Metering Pump's compact design and light weight make it a great choice when multiple pumps are required in the same instrument.
Metering Pump Applications
Application uses include:
Pump or system priming
Washing fluid lines
Needle or probe purging
Recharging filters or columns
Continuous flow applications
Rapid micro-titer plate well fillings
Post Run Needle and Tubing Rinsing and Cleaning in Diagnostic Instruments
Recharging ion exchange columns in dialysis applications
Rapid dispensing of viscous solutions for optimal micro bead suspension application
No Valves or Seals Metering Pump Design
The simplicity of a valve-less, seal-less design with the ease of single motor control makes these pumps extremely versatile. Since they are a true displacement pump capable of holding significant pressure, they can be used as an alternative to peristaltic pumps wheregreat precision and reliability is required.
IVEK Displacement Pumps function as the most precise syringe pump, but you never need to replace the syringe. Aspirating, dispensing and needle washing routines are effortlessly performed with great accuracy and precision. IVEK's unique design and piston coupling mechanism assures precise piston movement and extraordinary seal life for worry and maintenance free operation over many years.
Features & Benefits of Ivek OEM Metering Pumps Include:
Large flow range
Compact design
Difference pumps sizes available to optimize your application
Wear resistant components provide unsurpassed life (>10 million cycles achievable) without the need for replacement parts
Wetted materials of construction

Piston: alumina or zirconia
End Cap: PTFE
O-Ring: FKM standard
Ivek Displacement Pump Specifications: